Niobrara Adventures Events
You will always have fun at Niobrara Adventures,
​ but join us this year for these events for extra fun!
July 1, 2017 - Costume Party
Have you ever wanted a summer costume
party? Dress in your favorite costume and
float the river. All contestants must be registered for
a float trip July 1 @ 12:00. Great Prizes!!
​ Call for reservations and join the party!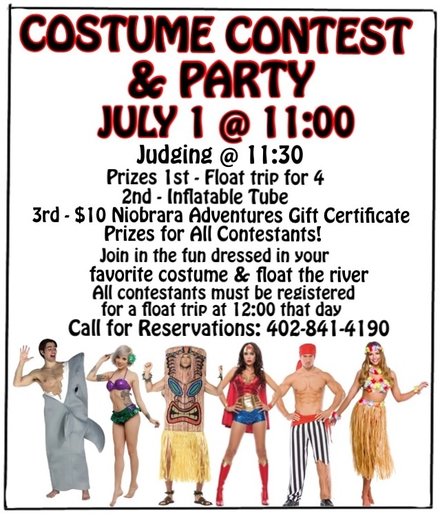 ---
July 22 - Desperado Day
​on the River
Join us for some Good Old Fashioned fun!
Everyone who has a scheduled float trip July 22 @ 11:00 or 12:00,
Will get free Desperado Gear to help "wrangle" the river!
Call for Reservations and
get your Yippety Yee on!!
​Also check out our local
​Desperado Days Celebration
in Niobrara, NE - July 21-23.​
---
August 12 - Scavenger Hunt
Become a sleuth to find treasures
on the river. ​Make reservations for
11:00 or 12:00 on August 12
​and join the fun.
---
Rent a Float and Keep Your Boat
Niobrara Adventures is upgrading. Get in on this Great Deal!
On August 26 reserve a time to float @ 11:00 or 12:00.
Get a used/repaired floatable Four Person Island for $75-$100
and a used/repaired floatable cooler for $5.
After your float on August 26, your Island and cooler
are yours to keep to use on other lakes/pools/rivers.
​Limited amount of used islands and coolers, so hurry to reserve!!!
Check out more
about this event on our Facebook event page
---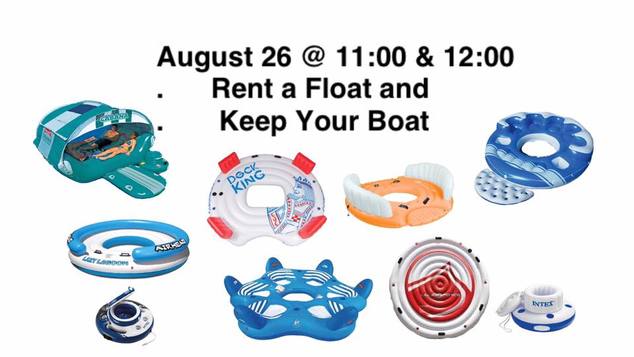 ---

Other Local Events
Niobrara Adventures - Launch Time @ 11:00 am & 12:00 Every Day - Memorial Day to Labor Day. - Call for reservations - 402-841-4190
Kreycik Elk and Buffalo tours - MAY 21st - October 1st. Tours are held Saturdays at 10am and 2pm, Sundays at 2pm or during the week for groups of 10 or more by reservation only. All tours need too have a reservation. Call 402-857-3850 or Stacy at 402-841-2754 Chris at 402-394-7214 for reservations.
Horse Trail Rides: May 27 - Sept. 4 - Niobrara State Park - Monday - Thursday: 9:30, 10:45 am. Tuesday Closed. Friday - Sunday: 9:30, 10:45 am, 1, 2:15, 3:30 pm. 45 Min. ride. Call for reservations.
​May 26: 7:30 pm Outback Band @ Ohiya Casino
May 27: 7 am - Early Bird watching - Niobrara State Park
May 27: 10 am - Bird in hand program with wildlife biologist bird specialist - Niobrara State Park
May 27: 6 pm - Buffalo Cookout and program - Niobrara State Park
May 28: 10 am - Sidewalk chalk - Niobrara State Park
May 28: 8 pm - Soundz Unlimited @ Sportsmen's Bar & Two Rivers Hotel
June 2: 7 pm - National park service - RV campground - Niobrara State Park
June 6-11: Verdigre Kolach Days
June 9: The Huckleberry's @ Sportsmen's Bar & Two Rivers Hotel
June 7 - 11: Kolach Days events @ Misty's, Verdigre NE
​June 17: 10 am-2 pm -National Park Service all day event - Niobrara State Park
June 17: 6 pm - Buffalo Cookout and Program - Niobrara State Park
June 17: DJ Music by Soundz Unlimited @ Blue Moon Resort
June 18: 9 am - 12 pm- Father's Day Fishing tournament - Niobrara State Park
June 23-25: Santee PowWow
June 23: Kings of Oblivion @ Sportsmen's Bar & Two Rivers Hotel
​June 24: 7 pm - National park service - RV campground - Niobrara State Park
June 30: 7 pm - National park service - RV campground - Niobrara State Park
​July 1: 11am - 12 pm - Costume Contest & Party - Niobrara Adventures
July 1: 6 pm - Buffalo Cookout and program - Niobrara State Park
July 1: The Outback Band @ Sportsmen's Bar & Two Rivers Hotel
July 2: 10 am - Sidewalk chalk - Niobrara State Park​
July 2: DJ Music by Soundz Unlimited @ Blue Moon Resort
​July 3 & 4: Springfield SD 4th July Celebration
​July 8: 10 am-2 pm -National Park Service all day event - Niobrara State Park
July 14 - 15: Becoming an Outdoors Woman
July 15: 9 am - 3pm - Geocaching - Niobrara State Park
July 15: 6 pm - Buffalo Cookout and program - Niobrara State Park
July 15: DJ Music by Soundz Unlimited @ Blue Moon Resort
July 21: 7 pm - National park service - RV campground - Niobrara State Park
July 21 - 23: Desperado Days - Niobrara NE
(please note Desperdo Day on the River at Niobrara Adventures is ONLY on July 22, as noted in Niobrara Adventures events above)
July 22: ?? music @ Sportsmen's Bar & Two Rivers Hotel
July 22: Doug Allen Nash (Johnny Cash Tribute) & Penny Gilley @ Ohiya Casino
July 29: 6 pm - Buffalo Cookout and program - Niobrara State Park
July 29: 9:30 pm - Learn night time photography and deep space constellations - Niobrara State Pa rk
August 4: 7 pm - National park service - RV campground - Niobrara State Park
August 4: Thompson Square @ Ohiya Casino
August 5: 10 am - Waterfowl hunting/ Cold water hypothermia safety - Niobrara State Park
​August 10 - 13: Knox County Fair
​August 11 - 13 - Ponca tribe of Nebraska Powow
​August 12: 11 am & 12 pm - Scavenger Hunt - Niobrara Adventures
August 18: Niobrara Trading Post - Music and Food to Welcome the Fisherman in Town for Catfish Tournament
August 19-20: Team Catfish Nebraska - Catfish Tournament Presented by Niobrara Trading Post
August 19: 6 pm - Buffalo Cookout and program - Niobrara State Park
August 19: 9:30 pm - Learn the constellations and their myths - Niobrara State Park
August 21: 10 am - 2 pm - Eclipse with the Brock "the Comet" Burney - Niobrara State Park
August 25: 7 pm - National park service - RV campground - Niobrara State Park
August 26: Niobrara Adventres @ 11:00 & !2:00 - Rent Your Float and Keep Your Boat
August 26: Caleb Bradley Band @ Sportsmen's Bar & Two Rivers Hotel
August 26: DJ Music by Soundz Unlimited @ Blue Moon Resort
​September 1: 7 pm - National park service - RV campground - Niobrara State Park
September 2: 5 pm - Buffalo Cookout and program - Niobrara State Park
September 3: 10 am - Sidewalk chalk - Niobrara State Park
September 3: Kings of Oblivion @ Sportsmen's Bar & Two Rivers Hotel
September 3: DJ Music by Soundz Unlimited @ Blue Moon Resort
​September 9: 7 pm - Night Owl Run/Walk - Niobrara State Park
** To make reservations for Buffalo Cookouts and Niobrara State Park Events - Call: 402-857-3373


Niobrara Adventures
Calvin & Diane Krupicka
Niobrara, Nebraska
402-857-3835
402-841-4190