Water Adventures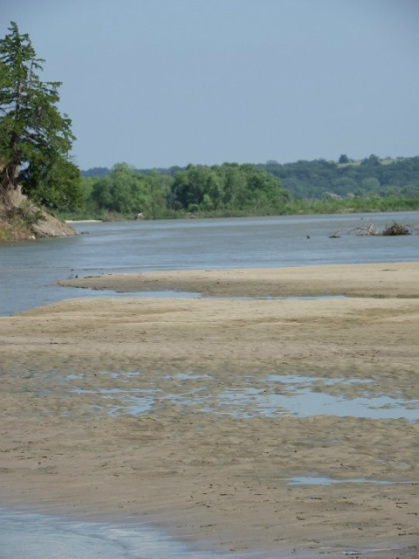 The Niobrara River is a pristine unspoiled ever changing River. A great way to enjoy the river is to float or navigate the river in our rentals. We offer kayaks, tubes, and floating island rentals.This part of the Verdigre Creek/Niobrara River is part of the Missouri National Recreational River that has been set aside so that all may enjoy its unique combination of "Outstanding Remarkable Values", including fish and wildlife, ecological, geological, scenic, recreation, cultural, and historic values. Our adventures is designed for a moderately active person and is a combination of floating, walking and exploring the lower half mile of the Verdigre Creek and 4 miles of the Niobrara River. This is your own Adventure and the rivers are shallow at times and walking is required at different points in a sandy and uneven bottom river.

We do not allow use of personal canoes, kayaks, tubes, or coolers.
No Pets Allowed
All water Adventures generally takes around 3 hours. We want you off the river by 5:00 P.M.
All Rentals include taxes. We also offer shuttle services at the end of your trip.
Coolers - Require lots of ice to keep beverages/food cold as the river will warm up coolers quickly. We recommend that you include at least one chunk of ice, such as a frozen water bottle plus cubes to keep your beverages/food cooler.

---
Photos of Water Adventures
Single Kayak Rentals - $35 (includes tax)

We have sit on top and sit in Single Kayaks
-Sit-on-Top Kayak -250-lb. Capacity
-Sit in Kayak - 300 Lb. Capacity


---

Single Tube Rental - $25 (includes tax)

-Comes with canvas tube cover
-Cupholder
-53" diameter
-Max Capacity 250 Lbs.


---

Waterproof Cellphone Case
For Sale- $5 (includes tax)

Take on your float trip and yours to keep!
Fits Cell phone 3.5" - 6"
(Iphone 6)


---

4 Person Island Rental - $75
(includes tax)

We have a Variety of 4 Person Floating Islands.
Islands look like they may hold 5-6 people, however they are weight limited to 700 lbs Max Capacity


Floating Cooler - $5 (includes tax)

We have a variety of floating coolers that a cooperate with our tubes. Most hold 18-24 cans plus ice.
Bring Lots of Ice to keep your beverages cooler. Rivers will warm up coolers.


---

---

Tank Tops - $15 (includes tax)

---

T-Shirt - $10 (includes tax)

---
Niobrara Adventures
Calvin & Diane Krupicka
Niobrara, Nebraska
402-857-3835
402-841-4190