Water Adventures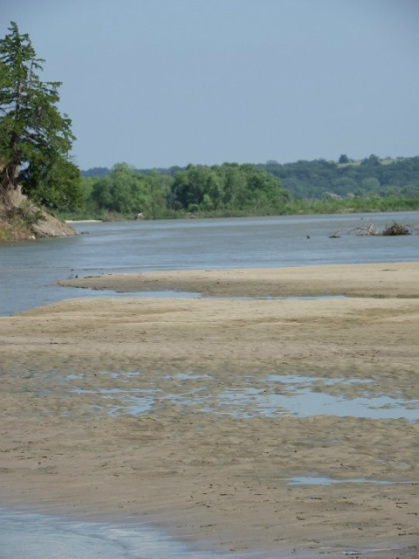 The Niobrara River is a pristine unspoiled ever changing River. A great way to enjoy the river is to float or navigate the river in our rentals. We offer kayaks, tubes, and floating island rentals.This part of the Verdigre Creek/Niobrara River is part of the Missouri National Recreational River. This adventure includes approximately 4.5 miles of River. The first half mile is on the Verdigre. The Verdigre at times of the year is all floatable, partly floatable, or is only walkable as you pull your floating tube behind you. Walking in a river is more difficult than walking on land. The next 4 miles of the Niobrara river always as a channel and current. The 4 miles of the Niobrara river are always almost all floatable if you follow the channel. We give you directions on how to find and follow the channel of the Niobrara River. This adventure is designed for a moderately active person and is a combination of floating, walking and exploring. This is your own Adventure and walking is required at different points in a sandy and uneven bottom river.

We do not allow use of personal canoes, kayaks, tubes, or coolers.
No Pets Allowed
All water Adventures generally takes around 3-4 hours. We want you off the river by 5:00 P.M.
All Rentals include taxes. We also offer shuttle services at the end of your trip.
Coolers - Bring your own ice to keep beverages/food cold. We do not sell ice. No Glass is allowed. No Personal Coolers are allowed.

---
Photos of Water Adventures
Single Kayak Rentals - $35 (includes tax)

We have sit on top and sit in Single Kayaks
-Sit-on-Top Kayak -250-lb. Capacity
-Sit in Kayak - 300 Lb. Capacity


---

Single Tube Rental - $25 (includes tax)

-Comes with canvas tube cover
-Cupholder
-53" diameter
-Max Capacity 250 Lbs.


---

Waterproof Cellphone Case
For Sale- $5 (includes tax)

Take on your float trip and yours to keep!
Fits Cell phone 3.5" - 6"
(Iphone 6)


---

T-Shirt - $10 (includes tax)

4 Person Island Rental - $75
(includes tax)

4 Person Floating Islands
We use the Red Obrien Islands
The Airhead Lazy Lagoon Island is used for back-up only.
Weight limited to 700 lbs Max Capacity

Floating Cooler - $5 (includes tax)

Floating coolers hold 20-24 cans with ice. Bring your own ice. We do not sell ice. No Glass beverages allowed.


---

Rent a Float & Keep Your Boat
$60-$100
(While Supplies Last)
We are retiring some of our used islands. Get a used/repaired and in Good Floating Condition Four Person Island for $60-$100 and Two used/repaired floatable coolers for $5. After your float , your Island and coolers are yours to keep to use
​on other lakes/pools/rivers.
Limited amount of used islands and coolers.


---

Tank Tops - $15 (includes tax)

---

---
Niobrara Adventures
Calvin & Diane Krupicka
Niobrara, Nebraska
402-857-3835
402-841-4190